YULIA N. NIKONOVA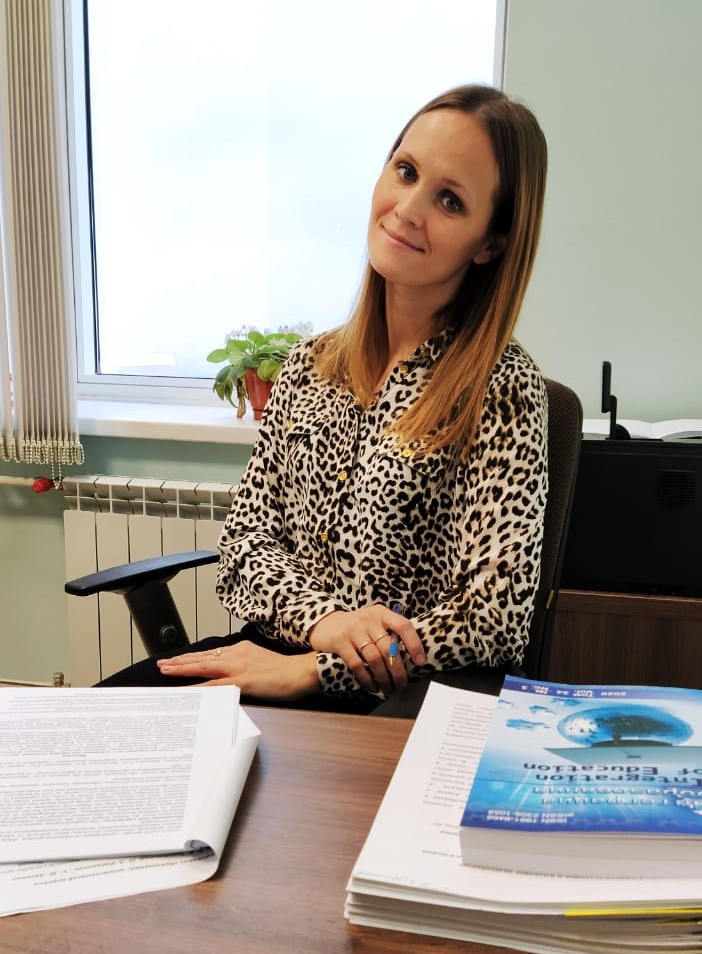 +7 (8342) 48-14-24 – Yulia N. Nikonova – editor of the Editorial Board of Scientific Journals
Publons ID:
https://publons.com/researcher/1627951/yuliya-nikonova/
Facebook:
https://www.facebook.com/ulanikonova/
Date of birth: 6 July 1985.
Place of birth: Saransk, Russia
Career: 
Graduated from the Faculty of Philology at the Mordovia State University in 2007, editor of the journal "Integration of Education" since 2013 till now.
Certificates / advanced training: 
2017 Online courses: Practical Recommendations for Publishing in International Journals, Information Tools for Authors of Scientific Publications, Information Tools for the Analysis of Scientific Activity, Resources of Сlarivate Analytics for Scientific Research (basic and advanced versions)
2018 – Online seminars: Antiplagiarism as a Tool to Improve the Quality of Scientific Works, Verification of Graduate Qualification Work for Borrowing through the Antiplagiarism System, Antiplagiarism in Elpub: How to Use It Correctly.
2018 – Training Seminar Information Educational Technologies-2018 Electronic Resources.
2018 – Detailed Publication Process: Detailed Publication Process: Tips and Tricks Workshop from Wiley Editors (Wiley Researcher Academy); Working with Profiles of Organizations in Web of Science and InСites Workshop, 6th International Conference of NEICON Electronic Scientific and Educational Resources: Creation, Promotion and Use, Yerevan, Armenia.
2018 – English for Academic Purposes Continuing Education.
2019 – Online seminar Сlarivate Analytics Information Tools for Effective Scientific.
2019 – Webinar Integration of Antiplagiarism with Information Systems of the Organization via API: Recent Changes.
2019 – 7th International Conference of NEICON "Electronic scientific and educational resources: creation, promotion and use", Seminar of Wiley "Publication in the Open Access: Opportunities for Authors and Recommendations of the Editor of Wiley", Workshop "New Opportunities for Information Resources and Tools Clarivate Analytics: Web of Science, InCites, JCR, Publons" (Rethymno, Crete, Greece).
2020 – Participation in the 5th Anniversary International Scientific and Practical Online Conference on Detecting Borrowings , in the training The Process of Submitting an Article and the System of Reviewing in an International Scientific Journal, in the webinars Evaluation of Scientific Publications: Modern Tools and Their Correct Application, Web of Science and Russian Science Citation Index Information Platform, Basics of Inspections on Borrowing in the Anti-Plagiarism System, Checking the Borrowing of Manuscripts of Scientific and Educational Literature: The Experience of the Publisher , Expert Evaluation of the Originality of Scientific Papers Using the Anti-Plagiarism System , Working with the Anti-Plagiarism System for Higher Education Publishing Houses: Features, "Pitfalls", Mistakes , The Problem of Self-Citation in Scientific Works. New Possibilities of the Antiplagiarism System , Myths, Legends and a Little Truth about ELIBRARY.RU-RSCI, Ethics Council of ASEP: How Does It Work? What Does It Do and for Whom?, Administrator Tools for Scientometrics – AdminTool and IPW , Common Skills for Promoting Scholarly Articles: The Methods to Increase Citation and Readership, Unconventional publication formats – Data paper & Preprints.
2021 – Webinars: Introduction to the Anti-Plagiarism System. Part 2. Basics of Working with the Report, Problem of Self-Citation in Scientific Papers. New Features of the Anti-Plagiarism System.