SVETLANA V. GORDINA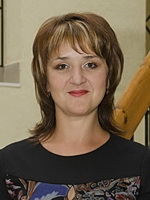 Executive editor, Kandidat nauk degree holder (Cand.Sci. (Econ.))
 Posts:
Head of Editorial Office of Scientific Journals [Integration of Education, Engineering Technologies and Systems (the previous name: Mordovia University Bulletin), REGIONOLOGY]

Birthday: 06.04.1971
Birthplace: Saransk


Career: In 1994 Svetlana Gordina graduated from the Mathematics department of Ogarev Mordovia State University; in 1994-1996 worked deputy director of regional educational district; since 1996  she worked executive secretary of the Editorial Board of Integration of Education. In 2002 she defended her thesis on integration of mathematical education.     
Training Courses:
2009 - Information and Communication Technologies in Professional Work of High School Teacher
2013 - Scientific Edition of International Level: Problems, Solutions, Training and Inclusion in the Citation Indexes and Abstracts Database
2014 - University Scientific Journal in the Modern Format at the Ivan Fedorov Moscow State University of Printing Arts
2014 - Scientific Edition of the International Level - 2014: Improving the Quality and Expanding Presence in the Global Information Resources
2015 - Management in Education at the Saratov State University
2015 - Scientific Edition of the International Level - 2015: Current Trends in the World of Editing, Publication and Evaluation of Scientific Publications
2015 - International Standards of Publication and Presentation of Scientific Journals: Task Fulfillment to Promote the Global Information Space
2015 - Actual Issues of the Research Results Publications in Modern Scientific and Information Space: a Global Citation Indexes and International Requirements to Publications and Journals at the Institute of Economics, Management and Law, Kazan
2016 - The Basic and Advanced Features of the Thomson Reuters Information Resources for Research (online)
2016 - Scientific and Practical Conference "World-Class  Scientific Publication - 2016: Publishing Ethics, Peer-Review and Content Preparation".
Research interests: mathematical education, integration of education.
Publications: 20 scholar articles.
Additional Information: Member of the Association of Scientific Editors and Publishers (ASEP)
ORCID ID: 0000-0003-2265-418X,
Researcher ID: K-7724-2014.
Mailing address: 68 Bolshevistskaya St, Saransk, Republic of Mordovia, Russian Federation, 430005
Phones: +7 834 248-14-24
Fax: +7 834 248-14-24
E-mail: This email address is being protected from spambots. You need JavaScript enabled to view it., This email address is being protected from spambots. You need JavaScript enabled to view it., This email address is being protected from spambots. You need JavaScript enabled to view it.