VLADIMIR G. MARALOV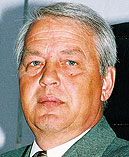 Member of the Russian Academy of Natural Sciences.
Professor.
Dr. Sci. (Psychology).
Phone: + (8202) 51-75-26
E-mail: This email address is being protected from spambots. You need JavaScript enabled to view it.
Career:
1969 - Student of Lenin Moscow State Pedagogical Institute.
1974 – Assistant, Cherepovets State University.
Now - Professor of the Institute of Pedagogy and Psychology, Cherepovets State University.
Main subjects:pedagogical psychology, psychology of personality activity, psychology of self-development, psychology of personal security, psychology of non-violent interaction.
Author of over 250 scientific monographs and articles on pedagogy.
Awards:
Certificate of the participant of the Famous Scientists encyclopedia.
Honored Scientist of the Russian Federation.